Guide to the Power Players of Art and Design
An Introduction to the 2015 Guide to the Power Players of Art and Design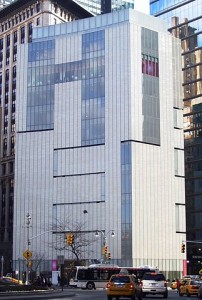 The Museum of Arts and Design at 2 Columbus Circle in Manhattan, New York City. Photo by Beyond My Ken.Those who follow the art world will be happy to learn that the annual Blouin Art+Auction guide to the country's most influential people in art and design has been released. Several changes and additions made to the guide this year are worth mentioning. The largest difference is that the listing is now alphabetical rather than grouped by categories. This is a reflection of the fact that many of the people on the list do not fit neatly into any one category. The guide has also chosen to include several essays discussing the latest trends in the business of art. Also new is the emphasis placed on innovation. This new emphasis might not be immediately obvious when looking at those who made the list, but according to the introduction to the guide, the quality of innovation "had the greatest impact on who made the list."
The full list of the 100 most powerful players will be published over the course of a two-week period.  Since the list is alphabetical the first names to appear are Ali and Hicham Aboutaam of Phoenix Ancient Art; Glenn Adamson, the director of the Museum of Arts and Design; and Craig Applebaum, an attorney turned art dealer.
Hicham Aboutaam and his brother Ali are well-known art dealers based in New York and Geneva. Taking over the business from their father, they have not sat on their laurels but have continued to innovate and develop their special niche of ancient art. They have recently opened a second gallery in Geneva catering to younger collectors where entry level collectors can feel at home. They have also been expanding their e-Tiquities.com web site, making collecting amazing artwork thousands of years old conveniently accessible.
Since the fall of 2013 Glenn Adamson had been the director of New York's Museum of Arts and Design. He has brought this institution back to its roots with its re-emphasis on craft. With this step Adamson has shown that it is his belief that handcrafting is "the anchor for the sometimes flighty fields of art and design."
Craig Applebaum entered the art world with a splash when he opened his avant-garde Industry Gallery in Washington, DC five years ago. After shocking the more conservative art patrons of the capital city, he moved west in 2011, opening a branch of his gallery at the Los Angeles Pacific Design Center. Applebaum's success in LA convinced him to close down his East Coast branch in 2013 and open a second location in Los Angeles earlier this year.
That is just the briefest of summaries of what you can expect to find within the pages of this guide. Take a look and learn about the power players and latest trends in the fascinating world of art and design.